Branch meetings are held in the morning on the second Saturday of the month from September through May at the Aurora History Museum, 15051 E. Alameda Parkway, Aurora, Colorado 80012.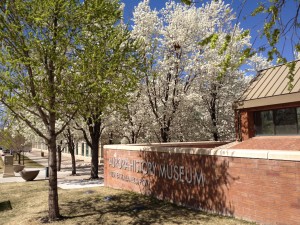 Officers 2018 – 2019
Past President

Pam Jones 2018-20

President

 

Joan Brown 2018-20

President-elect

Vice President, Programs

Bobbie Rubin 2019-20

Carol Tobiassen 2019-21

Vice President, Membership

Judy DeTar 2018-20

Treasurer

Joan McCracken 2019-21

Secretary

Jugbeh Charles 2018-20

Newsletter Editor

Leslie Jenkins 2019-21

Education Interests

Pam Jones  2019-21

Interest Groups

Su Ryden 2018-20

Public Policy

Joan Peterson  2018-20

Communications

Debra Parcheta & Donna Corriveau 2018-20

Historian

Arlene Howard  2018-20

Local Scholarship Chairs

Jeannie Miller and Betty Anne Budy 2019-21

Legal Advocacy Fund
Danielle Badura 2019-2020
Educational Opportunity Fund

Pam Spry 2019-2020

Bylaws
Sue Bodis 2019-2020
Hospitality

Pat Horton & Alice Lee Main 2019-20
Our interest groups are very active and also meet monthly.  Presently the groups include book discussions, culture & cuisine, hiking, bridge, and Great Decisions.
At the national level, we contribute to AAUW's  Eleanor Roosevelt Fund, the Educational Opportunities Fund and the Legal Advocacy Fund.
Locally, we support a college scholarship given annually to an Aurora resident completing her/his junior or senior year at a Colorado college or university.  We also partner with the Community College of Aurora to sponsor Equal Pay Day, an event that focuses on the issues surrounding equal pay, pay equity, and gender based discrimination. 

NerdWallet, a financial literacy site, ranked Aurora, Colorado as the best large city for women to work in the nation. The June 9, 2014 report considered Women's earnings, Income equality, and Population growth.
Thanks to higher-than-average recent population growth, a low cost of living and a relatively high level of income equality between women and men, Aurora ranks as the best large city for working women. Aerospace, defense, bioscience, renewable energy and transportation are the major industries in our city.
Past Presidents
Margaret Toppel

1963–64

Dorothy Gifford

1964–66

Dorothy Pearson

1966–68

Annabelle Dunning

1968–70

Ruth Anne Windmiller

1970–72

Patricia Farnham

1972–74

Lucille French

1974–76

Carole Gilland

1976–78

Joan Iverson

1978–80

Miki Gash

1980–82

Ruth Whitmore

1982–84

Liz Carder

1984–86

Rosemary Chojnacki

1986–88

Suzanne Bodis

1988–90

Ruth Fountain

1990–92

Terri Gehler

1992–94

Alice Lee Main

1994–96

Artimese Cowan

1996–98

Joan Peterson

1998–00

Carol Anderson

2001–04

Pat Lord

2004–06

Jean Balint

2006–08

Ingrid Lindemann

2008–10

Jane McGrath

2010–12

Cheryl Wilderman

2012-14

Terry Campbell Caron

Pam Jones

2014-16

2016-18