Aurora, Colorado is a city on the east side of Denver with a population of 350,000.  The Aurora, Colorado AAUW Branch was chartered in 1963 and currently has approximately 70 members.
AAUW, the American Association of University Women, was founded in 1881 and is open to all graduates who hold the associate or baccalaureate degree or higher from an accredited college or university.  Student affiliates are also welcome.
Our mission:
Advancing equity for women and girls through advocacy, education, philanthropy, and research.  Because of our commitment to this mission we have received the 5 star award two years in a row!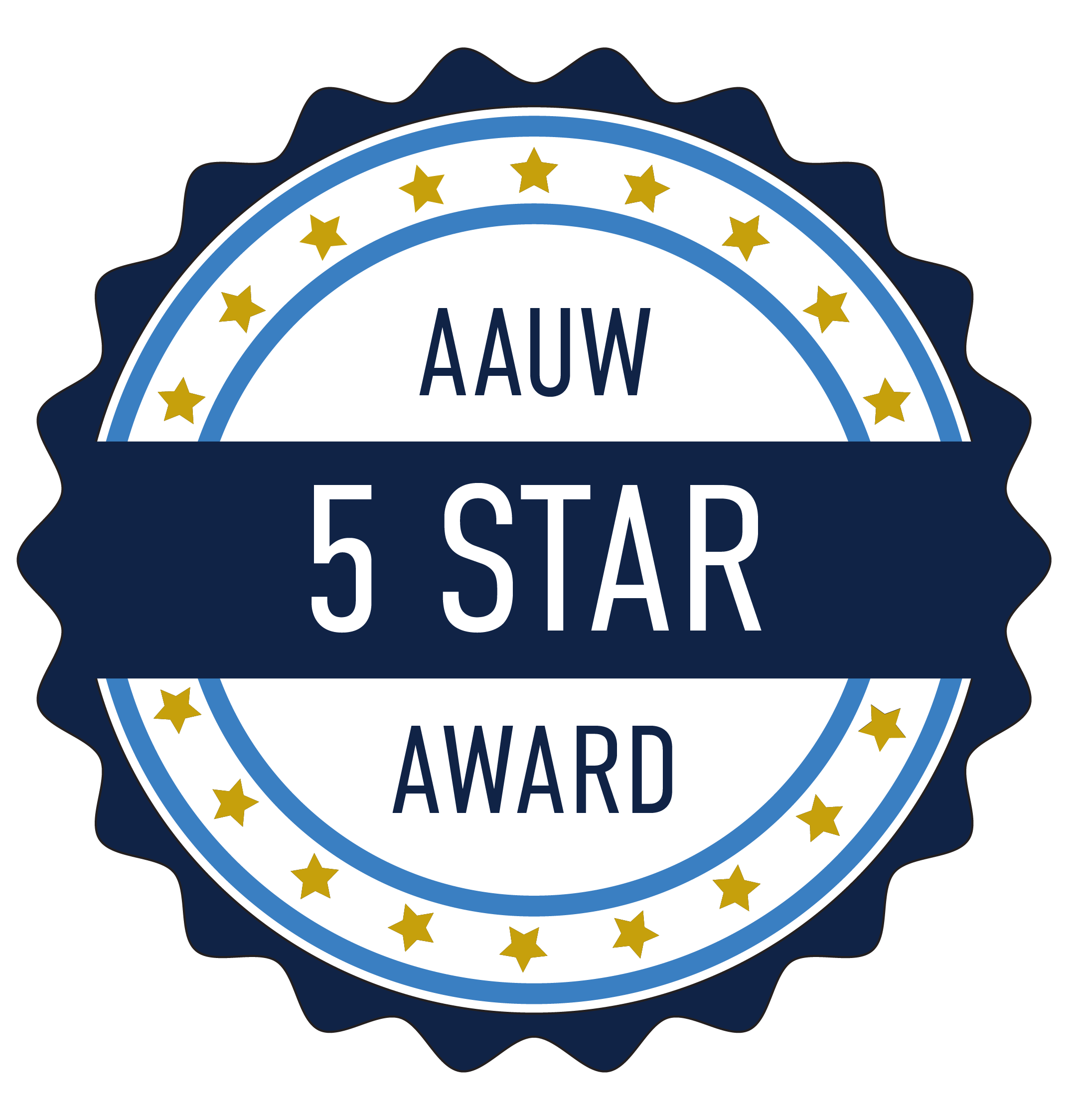 AAUW'S COMMITTMENT TO INCLUSION AND EQUITY
In 2018, AAUW put forth a bold vision for our future with a new strategic plan and by fall 2020, they launched an updated set of resources on diversity, equity and inclusion.  The Aurora Branch began its diversity, equity, and inclusion committee the summer of 2021.  The committee is working hard to access how best to expand the inclusion of a more diverse membership.
Start Smart and Work Smart
If you are a young woman applying for your first job or a woman reentering the job market, or an employee getting ready to ask for a raise, you need to hone your confidence and your salary negotiation skills.  Click on the site below.
Why Work Smart & Start Smart?
Learn how to research your target salary, highlight your accomplishments and find the right words — and the confidence — to negotiate for better benefits and pay. You can sign up for a free in-person workshop or  online course, which takes less than two hours to complete and can be done at your own pace.
Negotiating increases your potential to earn more — and can make the difference for paying off loans, supporting your family, buying what you want and need and saving for the future.
One year out of college, women are already paid significantly less than men.
The gap grows larger over time during a woman's career.
Women who work full time take home about 82 cents for every dollar a full-time male worker is paid.
Unless things change, the pay gap will not close til 2106 — that's why we're empowering women nation-wide with salary negotiation skills — and working to change polices and employer culture.
A transformative experience
I was really proud of myself and filled with self-affirmation and gratitude. Being able to stand for my self-worth and to then have an employer agree to what I requested was transformative.
Katie Wynne, Work Smart participant
By joining AAUW, you raise your voice with thousands of others to help women help themselves and discover the strength of working together.